News
Fall in Luv with Fitness
Tue 18th Oct 2022 by Nick Philips
Have you ever noticed that everyone seems so much happier when they're in Luv? They have a spring in their step, a smile on their face and a radiance that beams from inside. Everything in life is that bit easier when you have something to Luv and when you have a passion to focus on – it's like a magnet pulling you towards something.
Finding an exercise, fitness studio or sport you Luv works exactly the same way….. It's so much easier when you fall in Luv!
Fitness journeys are like relationships and need to be treated the same way. Relationships demand a huge amount of respect, commitment and hard work (all relationships are hard work even the best ones!) but most of all it needs to be enjoyable and EXCITING! 
Now I'm sure like most people you may have been in your fair share of bad fitness relationships. Have you ever felt like it wasn't really the right match, like it didn't set your world on fire and you didn't feel excited about the prospect of going back. Well you're not on your own! A recent poll by studyfinds.org found of 2000 people who frequently exercise, 50 percent don't work out as much as they'd like because they just don't enjoy it! That's half of the people! (Ironically, the divorce rate in the UK isn't far behind with 42 percent of divorces taking place in the UK in 2021 – told you they're similar!)
So, have you ever walked into a gym and thought 'I can't see myself here long term!', 'I can't commit to something that doesn't feel like a two way relationship'? Have you just been going through the motions but you knew there was no real future here, almost like this is just something you HAVE to do rather than WANT to do?
 If you've just answered yes to all these things then you're in the wrong relationship and in the wrong fitness studio!
But what happens when you do find the one, the magic spark, the passion, the one that sets your world on fire and the one you can't get enough of? Then it's meant to be – you've found your perfect partner and your perfect gym class!
Its not always Luv at first sight…..
Falling in Luv doesn't always happen right away, sometimes it takes a little bit of time getting to know each other and figure out the best way you work together. Ask yourself this….Does your fitness studio give you as much out of the relationship as you're putting in? Does it give you butterflies and a drive to keep going back? Because it certainly should! Don't let mainstream fitness studios trick you into believing it should be a one sided relationship where it's you giving all the Luv (and money!). That's a recipe for disaster and will become another fling in a long line of bad fitness relationships. You want to find yourself a fitness studio that gives you back the effort that your putting in, that educates you, believes in you and rewards you – and most importantly Luvs you for who you are.
It will never be easy, no relationship ever is, but should be worth it. If you find the right one you will commit yourself to being a better version of yourself day in and day out, you will invest your whole self into the relationship and you will have a drive to carry on and try new things. Being in Luv gives you that extra push and that bravery to conquer new fears… a new found confidence and a boost in your mood.
Like all relationships there are ups and downs, but that doesn't mean you need to walk away at the first hurdle, especially if it's 'THE ONE'! You work through the bad patches and you keep going until gradually it gets better and you're back on track. You just need the patience and the commitment to keep striving forward.
Find something you Luv and it will make your life so much easier, it will stop feeling like a punishment or a chore and it will become your best friend. You'll be able to commit your time to it and most of all you will WANT to commit! A partnership for life…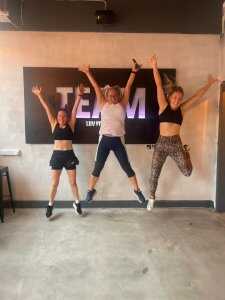 Here at Luv Fitness Studios in Bury, we truly believe we are the right partner for you – whether you want an online boxing class, strength and conditioning class or are looking for a spinning class in Manchester like nothing you've ever experienced then we're the one!
Try  2 Classes For  £14
Big Luv!